The history of Trevi Palace
Historic Palace
Already in 1748 Giovanni Battista Novelli represented in his famous Ancient Rome Map this palace, that in its actual form dates back to the middle of the XVII century. Today we can admire it again in all its new splendor thanks to the recent restoration that increases the value of every artistic element present in the structure. At the entrance of the palace in via del Lavatore you get welcomed by the eighteenth-century travertine portal, that with its white majesty invites you to enter the hall , where you can appreciate in all their new splendor the architectural elements in veined white marble, components that probably belonged to ancient buildings of the late Empire.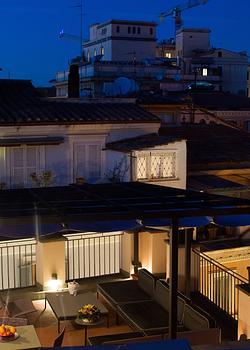 In the same room, you can see the basis of the pillars in roman travertine which one time decorated the ground and the noble floor, and that still give light to the impressive grand staircase in peperino stone.
In the ground floor the antique grating in wrought iron brings to the internal cloister where you can admire a steel casting, probably of the XIX century, copy of an ancient representation of the Abundance: Cerere, Earth and harvest goddess, is portrayed with the big cornucopia overflowing with fruits.
An arch in peperino, one of the most antique features of the whole building, which dates back to the primitive construction was recuperated in one of the apartments of the ground floor. This element, with the ancient window framed with marble that overlooks the first flight of the staircase, shows us which were the old tracks and apertures to the exterior of the building.
In the basement we find string course frames in peperino stone, corbels in white marble and other decorative elements. Walking up the antique steps of the grand staircase you can observe the antic portals, also in peperino stone, which served as entrance to the different wings of the palace, that today regained their antic splendor.
We can still admire in the central area of the building finds that date back to XVII and XVIII century, such as sub window doorsteps and other decorative features in peperino or roman travertine which have the fortune to have been discovered and brought back to their ancient beauty with a meticulous and careful restoration aimed to bring out the originality of each single piece.
Every stone feature was subject to operations of consolidation, cleaning, stucco with fine marble dust and a final superficial treatment.
---
These operations will preserve them for many years again.
---